| | |
| --- | --- |
| All in one storage ISO | All in one storage |
for heating, hot water, PV heat, heat pump, biomass and solar.
The tank is equipped with internal piping and insulation made of polyester fiber fleece, which ensure the highest energy efficiency.
With tuxhorn fittings to system storage
system safety with optimum energy utilization due to stratified chimney for heating circuit return
Power to heat stratified loading – storage unit is loaded 100% stratified
space-saving installable
low installation effort due to internal piping
optimally matched components
tubra® stations matching the system storage

The compact stations Heating, Hot Water, Solar and PV-Heat are available in different power groups.
Heating: PGR / PGM
Hot water: nemux S/M
Solar: PGS multi
PV-Heat: eTherm P / eTherm C
tubra® matching connection fittings for the All in one storage tank

tubra®-PGM

pump group DN 25 with 3-way mixing valve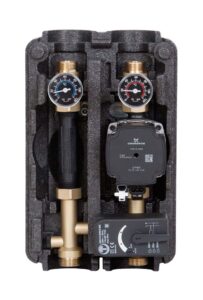 tubra®-PGM S
pump group DN 20 with 3-way mixing valve
Angle ball valve set

for VM2 or 1 HK group
2- and 3-way manifold

distribution module for PGM and PGR pump groups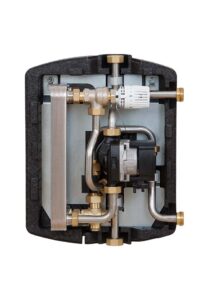 tubra®-nemux T

thermally controlled fresh water station with control valve and fast thermal actuator
tubra®-nemux M

electronically controlled fresh water station with circulation program, cascade function and hygiene program
Angle ball valve set nemux
with full bore valve
tubra®-eTherm P

hydraulic unit with integrated control and modulating power electronics with sensor unit for excess measurement of photovoltaic power for thermal storage in buffer tanks.
tubra®-eTherm C
hydraulic group with electric heating element and control for stratified heating of buffer tanks
tubra® storage connection set
for direct mounting to the storage tank
tubra®-PGS C multi

two strand solar station with
regulation Resol DeltaSol CS plus
tubra®-PGS multi

two strand solar station without control
tubra® storage connection set vertical

for direct mounting to the storage tank
| Type | PFW 380 | PFW 500 / PFWR 500 | PFW 800 / PFWR 800 | PFW 1000 / PFWR 1000 |
| --- | --- | --- | --- | --- |
| ErP Volume [l] | 381 | 480 | 718 | 887 |
| Standby volume [l] | | 213 | 305 | 420 |
| Solar volume [l] | | 267 | 413 | 467 |
| Ø non-insulated [mm] | 650 | 650 | 790 | 790 |
| Ø insulated [mm] | 850 | 850 | 990 | 990 |
| Height insulated [mm] | 1390 | 1680 | 1743 | 2093 |
| Tilt size [mm] | 1370 | 1657 | 1734 | 2077 |
| Solar WT | without WT | without WT / 1,8 qm WT | without WT/ 2,8 qm WT | without WT / 3,0 qm WT |
| Weight [kg] | 78 | 123 / 155 | 156 / 202 | 179 / 225 |
tubra® accessory selection for system storage

Product portfolio
System storage
System storage for hot water, heating, power to heat and solar