tuxhorn level fittings are fittings for level indication of liquid containers, usable for liquids containing water and oil.
The aeration valve is used in pressure vessels to convey a certain amount of air in the volume flow. This ensures that there is always a sufficient air cushion in the air vessel. In addition, it facilitates the start-up of the pump, since the entire pressure line is ventilated and the pump initially transports an air-water mixture in the start-up process.
The air volume regulator is used for automatic venting of the pressure vessel. If the level drops below a certain point, the valve opens and the air can escape at the start of the filling process.
tuxhorn®
valves for every application
float valves, float balls, aeration valves and sniffer valves
We have countless valves on offer. Just contact us, we will find the right valve for your application.

for level control in liquid containers, for water and neutral liquids.
Attention: Order float ball separately. Max. 60 °C Supply pressure according to
float ball
Mounting position: horizontal Material/housing and angle lever: CW617N (2.0402)
Piston, float rod, bolts and cotter pins: CW614N (2.0401)
Seal: NBR
60° Shore, oil resistant
for screwing into the suction port of piston pumps. Draws in air when aspirating. Air volume adjustable via throttle of the pump. Media: water, oil
Material body, bonnet, knurled screw: 2.0401 (CuZn39Pb3) Valve lip: NBR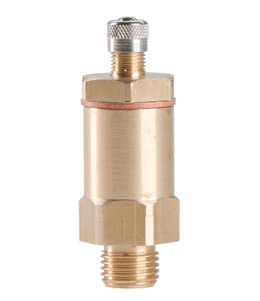 for manual venting of a pressure vessel according to DIN 4810. Top part with tank valve Vg 8
(suitable for car tire tester and inflator)
Material/housing, upper part, knurled screw: CW614N (2.0401)
Valve lip: NBR
Medium: compressed air
tubra® selection of other valves

Product portfolio
Supply fittings
Supply fittings are used for the protection of pressurized and unpressurized systems
Level indicators
fittings for level indication of liquid containers, usable for liquids containing water and oil