| | | |
| --- | --- | --- |
| PGR DN 32 | PGM DN 32 | PGM DN 25 + mag-jet |
Heating circuit groups DN 25/32
The compact pump groups for mixed and unmixed heating circuits
up to 90 kW heat power.
large power range up to 90 kW
progressive mixing characteristic for large flow rate range with optimum control quality (DN 25 kvs = 8.0 m³/h , DN32 kvs = 12.0 m³/h)
integrated temperature sensors – position in flow and return
smooth running ball valves with floating ball
ball valve spindles exchangeable from the front
integrated fitting piece for heat meter or tubra®-mag-jet magnetite separator
thermal insulation compliant with GEG
suitable for cooling applications > 14°C due to transparent foil in front of the thermometer openings
tubra®
variants DN 25/32 groups
The compact heating group is available with different pumps.
Pumps: Grundfos UPM3 25-70 Auto, Magna3 40-80, Wilo Para 25/8 SC
and without pump
Control: with and without constant value control
Mixer: with and without mixer and bivalent mixer
The tubra®-mag-jet magnetite separator filters microscopic magnetic particles out of the water and thus protects the heating system from rust and silting. The tubra®-mag-jet protects pumps, condensing boilers and the plate heat exchangers of heat pumps from wear and deposits, thus ensuring a long service life even for the narrow gaps of mixing valves, thermostatic valves and differential pressure valves.
lifetime extension of the new high-efficiency pumps by reducing magnetic particles in the heating water
complete insulation – ensured by the integrated installation in the heating circuit group
optimum protection and safety for your condensing boiler and heat pump
flow direction only from top to bottom
magnetite and particle separation through flow reduction in the bypass and integrated magnets
immersion sleeve for flexible magnetic chain
rotatable KFE tap with side outlet
very low pressure drop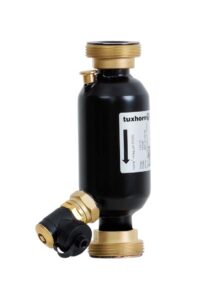 tubra®-mag-jet
As external or integrated solution in groups DN 20-32 possible
tubra®-mag-jet V
The mag-jet DN 25 V can be variably adapted to different lengths.
For this purpose, the copper tube is shortened accordingly and mounted by means of compression fitting.
Mode of action
Passage after assembly,
turbulent core flow, flow calming in the dirt area with easy drainage.
tubra®
-HW DN25/32 multifunctional diverter valve
The multifunctional diverter combines a hydraulic diverter with central system ventilation and a magnetite / sludge separator.
version available for DN 25 (1 ½") and DN 32 (2″)
including connection option for system deaeration, magnetite and sludge separation, flow temperature sensor
Including drain with fill and drain cock and immersion sleeve for VL sensor
thermal insulation compliant with GEG
wall mount
tubra®-HW DN 25
Welded
hydraulic separator
incl. system deaerator and magnetite separator
tubra®-HW with Iso
Incl. EPP insulation
Typ
tubra®-PGM 25
tubra®-PGR 25
tubra®-PGM 32
tubra®-PGR 32
tubra®-Trio-mat DN 25
Nominal capacity at dT 10K / 20K
35 / 70 kW
35 / 70 kW
40 / 80 kW
45 / 90 kW
20 kW / 40 kW
Kvs group (mixer)
kvs 8,0 (11)
-
kvs 12,0 (19)
-
-
Nominal flow rate
at dT 250 mbar
-
-
-
-
1700 l/h
Dimensions H x B x T
420 x 250 x 215 mm
420 x 250 x 215 mm
420 x 250 x 215 mm
420 x 250 x 215 mm
118 x 500 x 160 mm
Centre distance
125 mm
125 mm
125 mm
125 mm
125 mm
max. working pressure
3 bar
3 bar
3 bar
3 bar
3 bar
max. working temperature
95 °C
95 °C
95 °C
95 °C
95 °C
Connections boiler side
G1 1/2 AG
G1 1/2 AG
G2 AG
G2 AG
G1 1/4 AG
Connections circuit side
G1 1/2 AG , Rp1 IG
G1 1/2 AG , Rp1 IG
G1 1/2 AG , Rp1 IG
G1 1/2 AG , Rp1 IG
ÜWM G1 1/2 - Rp1
Gravity brake
20 mbar
20 mbar
20 mbar
20 mbar
-
tubra® accessory selection

Product portfolio
Heating circuit
Compact heating circuit groups from DN20 to DN40 with thermal insulation
Heating circuit groups DN 20

tubra®-PGM/PGR S
The compact pump groups for mixed and unmixed heating circuits up to 45 kW heat power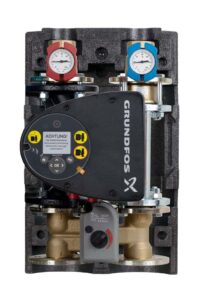 Heating circuit groups DN 40
tubra®-PGM/PGR DN 40
The powerful pump groups for mixed and unmixed heating circuits up to 250 kW heat power