| | |
| --- | --- |
| nemux ISO | nemux T/TM |
A functional and compact fresh water station with good control performance due to the interaction of the pump logic and the control valve with a fast thermal actuator. The preselection of the HW temperature range is done by a thermostatic head.
complete stainless steel piping
stainless steel thermal coil sensor located directly in hot water
hot water set point temperature adjustable from 35 – 65 °C via thermostatic head
pre-wired and ready to plug in
start signal through proven flow switch
optional ball valve set
optional storage tank connection piping
Typ
tubra®-nemux T
tubra®-nemux TM
Nominal size
Heating part / hot water part
DN 20
DN 20
Nominal capacity at cold water-hot water
heating flow 10-45 °C/65 °C
60 kW
83 kW
Tap performance 10-45/65 °C
max. pressure lost hot water part
24,6 l/min
0,6 bar
34 l/min
0,5 bar
Tap performance 10-60/75 °C
18,6 l/min
25,5 l/min
Performance rating according to DIN 4708
at nominal capacity
NL 3
NL 6,5
Loading pump
Wilo Para 15/7 iPWM2
Wilo Para 15/7 iPWM2
Electronic control
No
No
Thermic control
yes
yes
max. working pressure
heating part
10 bar
10 bar
max. working pressure
hot water part
10 bar
10 bar
max. working temperature
heating part
85 °C
85 °C
max. working temperature
drinking water part
65 °C
65 °C
Connections heating part / hot water part
G1 IG / G1 AG
G1 IG / G1 AG
Dimensions H x W x D
425 x 350 x 190?mm
425 x 350 x 190?mm
tubra® accessory selection

Product portfolio
Hot water
Fresh water stations from tuxhorn are used exclusively for heating drinking water by means of a buffer tank and an in-station plate heat exchanger using the flow-through principle. Only drinking water as defined by the Drinking Water Ordinance may be heated.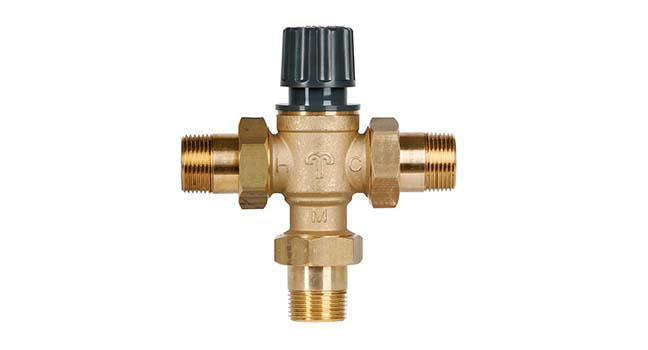 tubra-therm
Thermostatic domestic hot water mixer for central hot water temperature regulation

tubra®
–System Components Hot Water & PV Heat