Heating circuit groups DN 20
The compact pump groups for mixed and unmixed heating circuits
up to 45 kW heat output.
large power range up to 45 kW
progressive mixing characteristic for large flow rate range with optimum control quality (DN 20 kvs = 0 – 4.5 m³/h)
integrated temperature sensors – position in flow and return
smooth running ball valves with floating ball
integrated fitting piece for heat meter or tubra®-mag-jet magnetite separator
thermal insulation compliant with GEG
suitable for cooling applications > 14°C due to transparent foil in front of the thermometer openings
tubra®
variants DN 20 groups
The compact heating group is available with different pumps.
Pumps: Grundfos UPM3, Wilo Para and without pump
Mixer: with and without 3-way mixer
Actuator:

230V 3-point
24V, 0-10V
230V with constant value control
tubra®
-Trio-mat +
tubra®
-PGM S
The compact pipe group for one mixed and one unmixed heating circuit with only one pump group.
direct connection to a heat generator with integrated pump
compact modular design
completely pre-assembled for connection to the heating circuit
lower operating costs, as there is no need for a pump in the unmixed heating circuit
combination with system separation ensures minimum flow rate
Typ
tubra®-PGM S
tubra®-PGR S
tubra®-Trio-mat
Nominal capacity at dT 10K / 20K
Kvs Group (mixer)
20 / 40 kW
kvs 4,5 (9)
23 / 45 kW
-
12 kW / 24 kW
-
Nominal flow rate
at dT 250 mbar
-
-
1100 l/h
Dimensions H x B x T
360 x 225 x 210 mm
360 x 225 x 210 mm
122 x 350 x 182 mm
Centre distance
100 mm
100 mm
100 mm
max. working pressure
3 bar
3 bar
3 bar
max. working temperature
95 °C
95 °C
95 °C
Connections boiler side
G1 AG
G1 AG
G 3/4 AG
Connections circuit side
G1 AG
G1 AG
G1 ÜWM - Rp 3/4
Gravity brake
20 mbar
20 mbar
-
tubra® accessory selection

Product portfolio
Heating circuit
Compact heating circuit groups from DN20 to DN40 with thermal insulation
Heating circuit groups DN 25/32
tubra®-PGM/PGR DN 25/32
The universal pump groups for mixed and unmixed heating circuits up to 90 kW heat output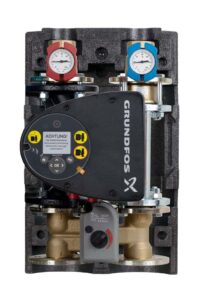 Heating circuit groups DN 40
tubra®-PGM/PGR DN 40
The powerful pump groups for mixed and unmixed heating circuits up to 250 kW heat output