'Our' ISH 2023
The ISH was a complete success for us and we are very grateful for the great interest you showed in our products. It was an honour to present our products and solutions to you and to answer your questions.
We hope that you were inspired by your visit to the ISH trade fair and look forward to seeing you again soon.

tuxhorn
solutions in heat transfer
tuxhorn is one of the leading German manufacturers of fittings and pump groups for the hydraulic control of solar thermal systems, heating and fresh water systems. Our competence is based on the know-how of more than 100 years, the consistent customer orientation and the focus on the growing requirements of the international markets.
We are the competent partner for original equipment manufacturers, wholesalers, installers and planners in the fields of
heating, hot water, solar energy, system storage and supply fittings.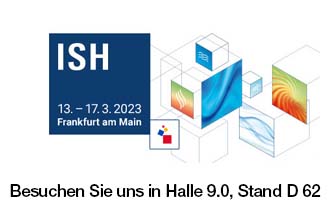 for heating, hot water, PV heat, heat pump, biomass and solar.
Simple, fast, space-saving installation of all system components directly on the storage tank with matching connection fittings…
Read more "
The new reference guide for tuxhorn system technology in combination with heat pumps.

In the guide, you will find important information about various systems for installation in single-family homes and apartment buildings with tuxhorn components for heat pumps.

The guide brochure "Wohlfühlwärme tuxhorn Komponenten für Wärmepumpen" is available for download.
Read more "
tuxhorn has established its own service partner network.
On-site technical service is being expanded with qualified and specialized service partners.
In addition to the well-known service support for the planning and design of our products
Tuxhorn now also offers on-site services for commissioning or complaints.
Read more "
We Build Energy Saving Fair, Wels
03 – 05 March 2023
Trade show for construction, sanitary and energy
Hall: xx I Booth: xx
Klimahouse 2023, Bozen
08 – 11 March 2023
Trade fair for building renovation and energy efficiency
Hall: B07 I Booth: 28
ISH, Frankfurt am Main
13 – 17 March 2023
World's leading trade fair for water, heat, air

Hall: 9.0 I Booth: D 62
We are represented at the following trade fairs and look forward to your visit

IFH, Nuremberg
26 – 29 April 2022
The trade fair for sanitary, home and building technology
Hall: X I Booth: X
Mostra Convegno, Milan
28 June until 1 July 2022
Trade fair for heating, air conditioning, ventilation and sanitary engineering as well as renewable energies
Hall: 01 I Booth: N29
Building fair Rheda-Wiedenbrück
04. until 06. Feb. 2022
Building, living, renovating, energy saving
Hall: Parquet Hall
Booth: P.017
Our workshops take place regularly at our head office in Bielefeld.
If you do not find any suitable workshops for you, just contact us. We are looking for a solution to provide you with the knowledge you need to get the most out of all our products and your projects. Your workshop team
All dates >>>
Find answers to frequently asked questions about our products here at a glance – FAQ >>>
c

Expand All
C

Collapse All
Tuxhorn offers a heat meter set for heating circuit stations. The scope of delivery includes transition nipples for the installation of a heat meter in the return of the heating circuit station (instead of the pump compensating pipe) as well as a T-piece including sensor adapter for the installation of the additional flow sensor of the heat meter.
Instead of the pump compensating pipe, the tubra®-mag-jet is installed in the return pipe of the heating circuit station. The required construction length of the tubra® mag-jet results from the dimension of the mounted heating circuit group. This applies to both mixed and unmixed heating circuit stations.
In our installation instructions you will find a table with the values to be observed for fresh water. If the limit values are exceeded, our fresh water stations with full stainless steel heat exchangers should be used.
ÜSTA stratification loading set: layered, optimum accumulator loading via single or double switchover
heat meter set
An incorrect flow direction during flushing / cleaning can lead to the cone of the gravity brake being pressed too deeply into the seat and not being released again by itself.