Fittings for level indicators
are used for optical level indication in liquid containers.
We offer a wide range of fittings for level indicators, including fittings for oil or water application.
The valves are available with and without shut-off. These are closed via a handwheel or via a self-closing mechanism, e.g. for oil application.
tuxhorn® liquid level indicator for every application
water level gauges with or without liquid level tube in various designs, oil level gauges and a wide range of accessories
We offer a wide range of liquid level indicators. Just contact us, we will find the right product for your application.

tubra® water level indicator with liquid level tube borosilicate glass

for checking the water level in pressure vessels according to DIN 4810.
Max. 100 °C, PN10, media: water, oil Body material: CW617N (2.0402)
Seal: EPDM + NBR, handwheel: metal, red, liquid level tube: borosilicate,
Protection tube: 2.0401
tubra® oil level indicator self-closing with drain ball valve

for visual level indication in liquid containers.
Model with drain ball valve.
Max. 100 °C, PN10, medium: oil
Housing material: CW617N (2.0402)
Seal: NBR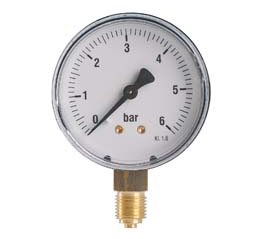 for pressure indication for tubra® fittings
Media: water, oil
Max. 100 °C, PN6
tubra® selection of other valves

Product portfolio
Supply fittings
Supply fittings are used for the protection of pressurized and unpressurized systems