Thermally controlled apartment transfer stations for efficient 2-pipe networks in multi-family houses for mixed and unmixed heat distribution.
tuxhorn
offers heating circuit groups from DN 20 to DN 40 with up to 12 m³/h or a maximum of 250 kW heat output, matching heating circuit manifolds, hydraulic separators, magnetite separators, overflow valves and accessories.
Find out about our diverse offer.
Heating circuit groups versions
PGR without mixer with lower pump shutoff
PGM with 3-way mixing valve:

230V 3-point actuator
24 V, 0-10 V actuator,
230 V actuator with integrated constant temperature controller
and with weather-guided heating controller

PGM / PGR DN 25/32/40 VL right / left possible
progressive mixer characteristic with large kvs value
ball valve spindles exchangeable from the front
integrable magnetite separator tubra®-mag-jet
Characteristic tubra®-PGM

Control quality of the mixing valve:
The progressive characteristic of the rotary valve ensures that even with very low flow rates, the flow rate changes can be controlled very precisely over the entire 90° control range.

Resulting flow temperature:
The exact setting of the required flow rate leads to a constant flow temperature. Thus, the building is supplied with exactly the amount of heat that is currently needed.
Product group Heating circuit

Heating circuit groups DN 20

tubra®-PGM/PGR S
The compact pump groups for mixed and unmixed heating circuits up to 45 kW heat output
Heating circuit groups DN 25/32
tubra®-PGM/PGR DN 25/32
The universal pump groups for mixed and unmixed heating circuits up to 90 kW heat output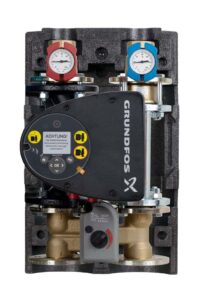 Heating circuit groups DN 40
tubra®-PGM/PGR DN 40
The powerful pump groups for mixed and unmixed heating circuits up to 250 kW heat output