| | |
| --- | --- |
| nemux ISO | nemux S/M |
A electronically controlled fresh water station with many options such as circulation programs, cascade function for up to 4 stations and hygiene programs. The nemux M has a more powerful plate heat exchanger.
complete stainless steel piping
optimized insulation according to GEG
variants with full stainless steel PHE available
comfort function (warm start)
floating set point function: at low buffer temperature, the set point is reduced and thus the buffer tank is not mixed
tubra®
-nemux cascade piping
The tubra®-nemux cascade piping allows a space-saving installation of two tubra®-nemux fresh water stations one above the other on the wall. Together with the cascade ball valve set, the primary and secondary piping can thus be realized.
Typ
tubra®-nemux S
tubra®-nemux M
Nominal size
Heating part / hot water part
DN 20
DN 20
Nominal capacity at cold water-hot water
heating flow 10-45 °C/65 °C
70 kW
100 kW
Tap performance 10-45/65 °C
max. pressure lost hot water part
28,7 l/min
0,8 bar
41 l/min
0,6 bar
Tap performance 10-60/75 °C
21,5 l/min
30 l/min
Performance rating according to DIN 4708
at nominal capacity
NL 5
NL 10
Loading pump
Wilo Para 15/7 iPWM2
Wilo Para 15/7 iPWM2
Electronic control
ja
ja
Thermic control
–
–
max. working pressure
heating part
10 bar
10 bar
max. working pressure
hot water part
10 bar
10 bar
max. working temperature
heating part
85 °C
85 °C
max. working temperature
drinking water part
65 °C
65 °C
Connections heating part / hot water part
G1 IG / G1 AG
G1 IG / G1 AG
Dimensions H x W x D
425 x 350 x 190 mm
425 x 350 x 190 mm
tubra®
-nemux S/M cascade:
Ball valve set cascade
2 x corner ball valve and
1 x cascade valve
Notice:
These two products are required per station for an installation of the nemux S/M cascade!
tubra® accessory selection

Product portfolio
Hot water
Fresh water stations from tuxhorn are used exclusively for heating drinking water by means of a buffer tank and an in-station plate heat exchanger using the flow-through principle. Only drinking water as defined by the Drinking Water Ordinance may be heated.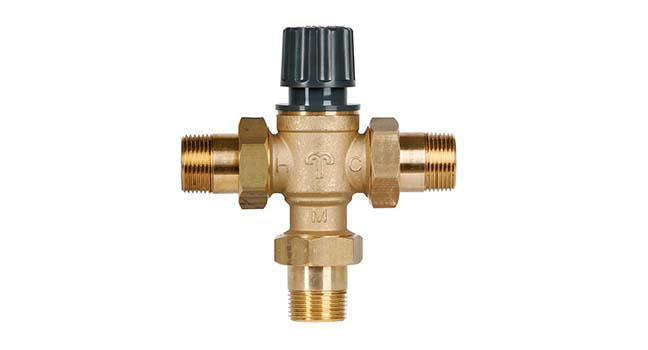 tubra-therm
Thermostatic domestic hot water mixer for central hot water temperature regulation